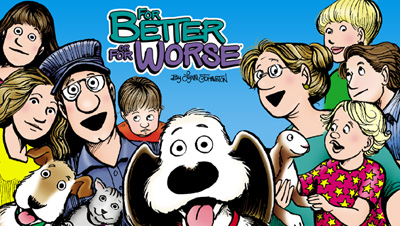 Fans of For Better or For Worse, Lynn Johnston's semi-autobiographical family strip, have been waiting with bated breath to find out if the rumors that the strip would end in 2007 were true. Well, we've received word from Lynn Johnston, and the news is good!
Although Johnston will begin to lighten her workload in September (around the time the strip turns 28), she will continue to produce FBOFW on a daily basis as an old/new hybrid. The focus of the strip will shift from Elly and John Patterson, the stars of the comic strip since it began in 1979, to their son, Mike, and his family. After the transition, FBOFW will be a unique mix: new strips featuring Mike and family, with guest appearances by the rest of the FBOFW cast, plus previously published strips/scenes with new lead-in panels, and in some cases, retouched art.
The hybrid strip offers the best of both worlds; it will enable Johnston to cut back on the daily grind (who wouldn't need some rest after producing nearly three decades-worth of daily comics?), but will still give fans their Patterson family fix.
There will be one more difference, and it's a big one if you're a fan of FBOFW's realistic treatment of time: The characters will no longer age. Johnston says the gradual aging of the characters was not planned when the strip began, and after 30 years, she's ready to freeze the Pattersons at their current ages.
With all of these changes on the horizon, it will be a different FBOFW that ends 2007. But knowing that Lynn Johnston will still be treating us to daily doses of FBOFW in 2008 and beyond is cause for celebration.
Click here to read the full FBOFW press release.