Introduction: Mission—to give readers a look into the life of the 7-Day Menu Planner's recipe testing, successes, failures, new discoveries and food travels. Full disclosure: I'm an average cook with a lot of experience. I'd rather eat out, but creating the Menu Planner and testing the recipes has great moments, too.
Even though I talk a lot (too much some would say), I never felt the desire to blab about my cooking adventures and recipe testing. Even though I had a lot that I couldn't say in my column (not enough space), as the human behind the 7-Day Menu Planner, I was somehow silent. The veil has lifted and here I go, blabbing away. I'll try to offer hints, tell you my mistakes (so you don't have them), identify products I really like (and don't) all with the hope that my mistakes and discoveries will save you time.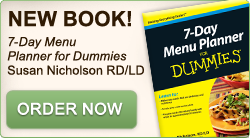 © 2010 Universal Uclick
Susan Nicholson is an Atlanta-based cookbook author and registered dietitian.
For information getting 7-Day Menu Planner for your publication, contact [email protected]