The Sandbox
GWOT hot wash, straight from the wire
Welcome to The Sandbox, a forum for service members who have served or are currently serving in Iraq and Afghanistan, returned vets, spouses and caregivers. The Sandbox's focus is not on policy and partisanship (go to our Blowback page for that), but on the unclassified details of deployment -- the everyday, the extraordinary, the wonderful, the messed-up, the absurd. All correspondence is read, and as much as possible is posted, lightly edited. If you know someone who is deployed who might have something to say, please tell them about us. To submit a post click here.
MY SISTERS IN UNIFORM: UNWRITTEN
|
November 10, 2013
Name: The Afghan Battle Fox
Returned from: Afghanistan
Hometown: Clyde, Ohio
Milblog: Afghan Battle Fox's Blog
Email: lambmommy@gmail.com
The comments to this entry are closed.
TrackBack
TrackBack URL for this entry:
http://www.typepad.com/services/trackback/6a00d8341c5f3053ef019b00babcaf970c
Listed below are links to weblogs that reference MY SISTERS IN UNIFORM: UNWRITTEN:
« Previous Article | Main | Next Article »
LINKS
About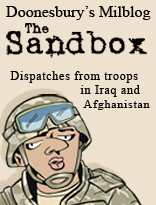 FEATURED BOOK